Do you lack motivation and inspiration to practice your guitar at home?
Are you able to sustain high levels of focus when you practice guitar?
Do you feel that you easily get distracted when practicing guitar, and feel disappointed with the results you get on guitar?
Do you often end up practicing in front of the TV?
Do you often feel tired or just lazy to pick up your guitar and do the things that you need to do to progress on the guitar?
Do you feel happy and fulfilled by your guitar practice sessions?
Can you truly and honestly say that you know for sure you are progressing every time you pick up your guitar?
Do you just want to get more help and training on the guitar?
Do you want to maximise and accelerate your progress in all areas of your guitar playing?
Do you wish you had more time to practice guitar on a consistent basis?
Do you find yourself aimlessly jumping from one practice item to another and going nowhere?
Do you find yourself watching more youtube videos than playing the guitar?
Practice does NOT make perfect. Perfect Practice makes perfect.
You already know that you need to practice regularly and consistently in order to get good results. You and I know that you often don't get enough time or miss out on practice sessions throughout the week.
You may spend lots of time every single day… or you may not get much of a chance to practice at all the entire week!
Either way.. This is why your practice at home sucks…
If you feel that your practice sessions at home on your own are unfulfilling, and you are not getting the kind of results you should be (as you receive within your guitar lessons) you are like most guitar players. If you lack motivation to keep up continuous and consistent practice you are likely not getting the maximum benefit from your training sessions at home. Your results at home will just be mediocre at best, because you don't track all the areas of playing and you can't visualise your progress accurately, and you have not set yourself up in the right environment with the right frame of mind.
Worse still, if you don't remember every single specific detail in your guitar lessons. You could be totally on the wrong track, and if you forgot one small point, you could end up practicing in the wrong way the whole week, essentially installing the wrong motions into your fingers and setting yourself way back.
What if there was a way that you could ensure that you stayed on track every single week, every month and even every day of the year? How great would your guitar playing skills get? Better still, how amazingly fulfilling will it feel when you see yourself reaching your musical goals in a steady and consistent progression?
Imagine being able to get that truly fulfilled feeling of having super productive practice sessions every single time. Having a great coach looking over your shoulder and guiding you every step of the way – correcting you before small mistakes develop into damaging problems.
These guitar training sessions are just awesome! They are designed to produce the maximum amount of results for you in the shortest possible time.
You will learn exactly how to practice effectively and efficiently to make AT LEAST 15X more progress than you currently make.
Better than that – you will have all the correct movements, fingering, picking motions, techniques and concepts drilled into your hands and brain.
You will be trained to sustain high levels of focus while practicing to derive the maximum benefit from your guitar practice.
You will constantly be exposed to new training methods, Geometric guitar training and effective practice concepts and strategies.
You will be coached and trained to reach high levels of guitar playing.
Every single guitar playing obstacle that you face right now and in future will be obliterated.
All areas of your guitar playing will be tracked and optimised.
You will learn what you are doing wrong when you practice at home and how you can prevent them from occurring.
These sessions will ensure that you do not jump aimlessly from exercise to exercise without a purpose.
Master fast guitar playing and Develop ultimate picking and fretting hand control.
Cement in your 2-hand synchronisation to never miss a beat.
Learn how to Clean up your guitar playing and train to 'never get it wrong' the way the pros do it.
You will learn how to achieve the optimum state of mind for practice and laser focus in these sessions.
Break through plateaus and barriers that you face when playing guitar.
Your practice sessions will be fulfilling, and steadily bring you closer and closer to your musical playing goals.
You will know exactly what to do, for how long, and having a specific roadmap to guide you to the final destination.
You will develop a crystal clear understanding of what you need to do next to take your guitar playing to the next level.
These sessions will leave you no choice but to make consistent gains in your guitar playing, make you feel better about your skills, give you confidence to play in any situation and feel super motivated to practice your guitar.
Think of it as personal coaching for guitar. I am going to keep pushing you to reach new heights in your playing, take you every step of the way and make sure that you achieve all the guitar playing goals you set out to achieve. We will reach the finish line together!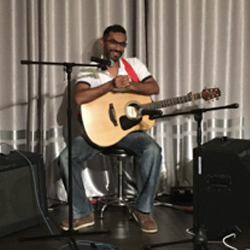 Since starting Dynamic Guitar Training (DGT) with Vishaal, I have improved in every aspect as a musician/guitarist & am on my way to becoming a Guitar God!
My previous attempts at a musical life(pre-DGT with Vishaal) were painful at best & often punctuated with periods of frustration & boredom. However, since DGT with Vishaal, I believe that anybody, even me can be [email protected] musician! I now see life through a different set of eyes so to speak!
Since Dynamic Guitar Training with Vishaal, I have levelled up as a guitarist by at least 100%. In fact i was amazed by how much my guitar playing has improved by leaps & bounds after just a short few months. It's even more satisfying when my rapid improvements are constantly being noticed by not just my peers but also by my loved ones.
I would recommend Dynamic Guitar Training to any serious guitarist who wants to get a handle on proper guitar training & practice fundamentals right from the get-go. Every single  session provides guitarists with immediately usable, customised, actionable guitar-playing gold! If you're like me and prefer a more structured and slightly hand-held approach to your guitar mastery, Dynamic Guitar Training is your best choice!
Every single  session is heaps of fun & packed with immense value! I also get to jam with & learn from other great guitarists in every single session!
Since I started: I'm able to now play & sing along to my favourite songs. I have also improved my aural skills(hearing skills) and am on my way to becoming a song transcriber! I have since then come up with my own cover versions of songs & have even gone on to perform in front of a live audience! Imagine that!
I would never have dreamed or even pictured the possibility of such a scenario. Dynamic Guitar Training with Vishaal has given me the confidence to progress and improve as a guitarist.
These sessions has been an all encompassing experience for me. I have not just improved my technical skills but have also learned to work on my inner mindset that is pivotal to success on my journey as a guitarist! Every DGT session with Vishaal is always a blast as Vishaal is not just an experienced coach with international qualifications, Vishaal is laid back & has a uncanny ability to decipher your musical doubts and leaves you motivated by the end of each class. I highly recommend DGT Classes with Vishaal! Thank You!