Are You Looking for the best guitar lessons in Kuala Lumpur and Petaling Jaya areas?
Here's what some of my guitar students have to say about their experience with my guitar lessons. These guitar students have had a great learning experience and have received some great results on the guitar. You could be one of them too!
Learn how to achieve your guitar playing goals by scheduling a FREE guitar lesson – just click the button at the bottom of this page!
Before I took lessons with Vishaal, I attempted to frustratingly teach myself to play guitar for a couple of months and was about to give up just before I stumbled upon vishaal's website. After the first trial lesson with Vishaal, I was already able to play and change certain common chords a lot smoother than I was able to in the few months prior.
 That was about 2 years ago, and I have improved tremendously as a guitar player ever since.
I have always loved music and wanted to be able to play an instrument and create music but never had the chance to when I was younger. Also had the impression that it requires talent, plus I genuinely thought I was tone deaf. Now after taking lessons with Vishaal, its like a dream come true to be able to not only play guitar but be able to transcribe my favourite songs on the guitar by ear.
To put into perspective of how much more (definitely more than 5x) have I learned about guitar playing and music since starting lessons with Vishaal, I use to struggle at just holding the chords, now I am not only able to play the chords, I understand the notes that make the chords, able to find the chords in different positions of the frets, understand how scales and chords tie in and able to implement all this in my playing. Its beyond my wildest imagination that I would have improved so much in just 2 years.
I would recommend these guitar lessons with Vishaal to anyone who is interested in picking up the instrument mainly because of the way the lessons are structured with your goals in mind, therefore helping you to progress towards it regardless the level you are at. Vishaal makes the lessons very interactive and engaging to the point even the music theory lessons can be very interesting and easily understood.
I look forward to the lessons every week because there's always something new and interesting. Even if it's revisiting some of the older lesson materials to further master a certain topic, it doesn't feel repetitive because of the way Vishaal conducts his classes. Vishaal is always so passionate about playing guitar and music that it is a contagiously feel good environment to be in.
The list of things I could do now that I couldn't before the lessons with the guitar or musically is very long. As someone who never had any musically knowledge or background before I started with Vishaal, I'm proud to say that I now know what are scales, chords, how chords are constructed, able to improvise along to backing tracks and learn my favourite songs by myself with the tips and techniques shared by Vishaal.
If you thought music is only for those born with the talent for it, prepare to be proven wrong ☺
Although I've only just started taking lessons from Vishaal, I've noticed my guitar playing improve significantly over these past few months with him, despite playing alone for over a decade! 


My musical life before taking lessons from Vishaal was more of "monkey see monkey do". I only used to try and mimic my guitar heroes without really knowing the musical theory behind what I was doing. As a result I was often stuck and didn't really know how to make proper progress. My solos and improvisation were bland and non-daring.
Since taking lessons from Vishaal, I am much more confident with my improvisation. Vishaal is giving me the proper tools and structure that I need as a guitarist to reach my goals. Apart from introducing me to infinite possibilities when it comes to creating melodic solos, progressions and riffs, Vishaal is also helping me correct previous mistakes I picked up from being a self taught player and rearranging what I learned previously into a more structured manner.
I've learned more than 10 times about guitar playing and music since taking lessons with Vishaal, and keen to learn A LOT more ☺
I'd recommend these guitar lessons to anyone who wants to improve their guitar playing, regardless of how far they would want to go with it because Vishaal's lessons are catered and designed to meet your individual goals as a guitar player. What sets Vishaal apart is that he does not have generic module for every student. Each student has a specifically tailored guitar course.
After taking lessons from Vishaal, I now have a sense of direction when it comes to my guitar playing. With Vishaal's help, I know what I'm required to do in order to achieve my guitar goals. I'm able to play more complicated pieces and learn them much quicker. My playing has also become more tasteful and I'm able to better identify a key and/or mode of a song.
Apart from being a great teacher and mentor, Vishaal's best trait is being a good motivator. Wanting to master an instrument can be frustrating and at times your goals may seem too far fetched, but Vishaal always gets me back on track and helps me come out of the rut a better guitar player.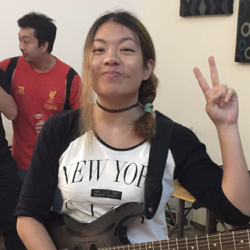 I think I've improved a lot after taking classes with Vishaal. I have learnt 10x more about guitar playing and music after taking lessons. I would recommend guitar lessons to anyone who wants to learn guitar.
I enjoy lessons a lot. Before I joined classes I could play songs but I didn't know what scales and stuff I was playing. And now I know, and I can compose my own songs now! Vishaal's classes are awesome!!!
Before I join the class with vishaal, I was totally new for playing guitar. But now I read and understand chords, tabs so that I can play and improve alone.
This is significant improvement. before I begin, I didn't know what I don't know, but I know what I don't know. so I can practice and evaluate my progress.
Before the class, I was just a ordinary person listening to music but having no background of any musical theory or way to perform playing.
now I can say I can jam with other musician even if i am not quite good at playing and how to approach in musical way.
I get better 10000000000% playing comparing my life before the class with vishaal. because I was 0% of guitar player level.

maybe i cannot compare my improvement on numerical term since i have the class with vishaal. It is just brand new life.
I couldn't play the guitar at all, now i can play. it is not matter of improvement actually, but matter of life musical life.
Vishaal is quite good at evaluating his/her current guitar skill and programming best suitable way to improve.
There is not simply fixed curriculum for student but unique one for everyone.
I guess this is one of most effective way to get better result for all students.

Vishaal's lesson was really fun and joyful. every time i come to lesson, i was enjoying jamming with vishaal and improvising some melodies.
Vishaal's lesson is totally different from the one we may experience in ordinary class.
Vishaal is teaching way to enjoy the music. Vishaal is teaching way to make your life more rich in musical way.
In 10months lessons I have learnt alot from Vishaal. From a beginner a purely new to guitar and Vishaal came up with his own teaching program which is fun and easy fast learning on to me. Under Vishaal's guidance and helped me overcome alot of prablems that I discovered along the lessons. It's so cool and I'm able to play every single song that I like with all difference techniques that Vishaal has taught me. So now I can play my guitar during every small or big events, especially travel around and I could play my guitar to bring fun in gathering. I learned a lot about music and the production of music from Vishaal. He is a good teacher and able to sorted out my problems and correct me which made it more fun for me. So I'm enjoy and love guitar for now =)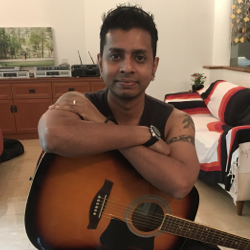 I never was a musician and / or a guitar player and never imagined I would ever call myself one. I have been in a band most of my teenage and adult life but only as a vocalist. I had no clue on the heads or tails on many of the discussions my bandmates would have regarding our music.
However, my decision to commence lessons with Vishaal in May 2015 proved to be a pivotal one and a turning point that would prove me otherwise.
Only six months later, I have my head completely wrapped around every discussion my band mates have on our music and have even contributed creatively towards it.
I carry my guitar around proudly and when asked, I say that I am no maestro but it gives me great pride and pleasure to know that I now can play some of my favourite tunes aside from writing my own compositions.
I had zero musical education prior to my lessons with Vishaal. Music however has always played a big part of my life and driven by this passion, I got myself involved in several bands as a vocalist and was privileged to play at a number of gigs.
I did try learning to play the guitar from some renowned musicians, both formally and informally. The lessons seemed complicated and mostly appeared to be very textbook oriented, which was not suitable for me.
My only regret was getting discouraged at an early stage. If I had commenced lessons with Vishaal much earlier, I am sure I would have progressed much further by now. He has made learning to play the guitar to be simple and fun.
Considering the fact that I had zero music knowledge and never could play the guitar player before my lessons with Vishaal and now that I can play the guitar, read notations and compose my own songs, I would say I have had a 1000% improvement.
I would recommend the guitar lessons to Everyone under the sun! I have been recommending these guitar lessons to my friends and will continue to do so.
Vishaal has shown me that you are never too old to start learning to play the guitar. The earlier you can start, the better. Only thing you need is the will and determination.
Why? Simply because he is a great teacher.
I was always the type of student to drag my feet most of the time to school and classes. But this isn't the case with Vishaal's class. I make sure me and my wife (who also learns from Vishaal) are ready and out of the house in time to be early for class. Our schedules have since revolved around class so we never miss any.
He is a phenomenal teacher who is equipped with a wealth of knowledge that is amplified with a wonderful personality. He is patient with his students and tailors his lesson to individual paces aside from his ability to articulate his lessons in a manner that is easy to comprehend.
Before, I could do nothing. Now, I am able to read chords, notes, play cover songs of my favourite tunes and even write my own songs. If I continue my lessons and keep practising, the sky is the limit.
In summary, Vishaal is an amazing teacher and you need not look elsewhere if you really want to learn to play the guitar.
Before this (guitar lessons), I cant even play single chord but now with Vishaal help, I can play multiple songs. Before I Join Vishaal class, I would learn playing guitar from Youtube and the learning process was frustrating. I used to give up learning guitar easily due to the frustation. Now, Vishaal have thought me to learn in fun and exciting way.
I would be more than 100% better guitar player compared to before Vishaal's lessons and compared to learning it from Youtube.
I would recommend beginners to join Vishaal class as it provides opportunity to learn guitar in fun way. I usually cant wait to go to Vishaal classes and learn new chords and start applying in my song building.
Now I can practise learning guitar by myself without the frustration I used to have
Vishaal has been a great teacher to me because Vishaal showed me learning guitar can be fun.
I have improved so much as a guitar player since started to take lessons from Vishaal. I started to learn guitar from zero knowledge; from the way to hold or place the guitar, how to strum and etc.
Musical life before I started the lessons with Vishaal, was totally different, as I see music in a different way like how it has been produced! This is a totally different experience and this brings me closer to the music.
I can say that I have learned 10 times and more about guitar playing, fantastic techniques and many more about music ever since joined lessons with Vishaal.
I would recommend whoever is keen in learning guitar and music lover to join the lessons with Vishaal because it's totally worth for the money you paying and definitely Vishaal will bring your guitar goals in the right path and also make sure you reach them.
Lessons with Vishaal will be totally enjoyable with full of knowledge!
It will be a great day! 🙂
After being with Vishaal's lesson, right now I would say i can strum, knowing the strumming style and create my own, straight away can read the chords and applied them to learn a song so quickly.
What I would like to mention about taking guitar lessons with Vishaal is, it's simple, easy, step-by-step methodology and engaging lessons!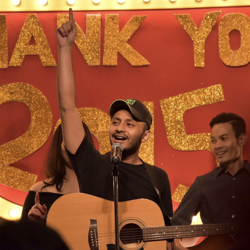 It has been a very great journey for me when it comes to learning guitar from Vishaal. Very excited everytime the classes start. From zero knowledge until I become a performer. Which is something that I didnt expect i could achieved when I join guitar lesson with Vishaal.
Before I joined the weekly lesson with Vishaal. I have no confident to play guitar with friends or perform to public because I have zero knowledge. But after all of the effectiveness mechanism that Vishaal had taught me, together with encouragement and empowerment, I became somebody who is very quick to learn about guitar and move forward.
In future, if I have friends or whoever that looking for guitar lesson I will definitely recomend Vishaal as a teacher for them. It is important for me because of the achievements and the value that I get. It was fun because Vishaal very straight forward when it comes to feedbacks.
I had experienced zero stress but always full of fun and spontaneous whenever I started my guitar class with Vishaal.
From the start, my strumming, plucking and few of the guitar skills was bad. But with the effectiveness of the mechanism that Vishaal do for me. I can now play guitar like a professional performer.
Really appreciated with every single lesson that I get from Vishaal!
I have been taking guitar lesson from Vishaal for 6 months and it has been an awesome learning experience for me. From being someone who couldn't get the timing and rhythm when strumming the guitar, today I can play a chord progression with the right beats and rhythm with multiple strumming patterns.
I only had imaginary musical life before i started lessons with Vishaal. I imagining myself playing the guitar like a pro and able to play songs that I like. I always wish that I would wake up the next morning and have this musical talent. But in reality I don't have this musical talent, I decided that I need to get a teacher, a mentor to impart these knowledge to me. I suppose, I would be able to play a song or two at least, if i take on lesson. But I found Vishaal on the internet and started taking lessons from him, and I've gained more than just playing a song or two. I have now the knowledge to play using the right techniques and also being creative while playing the guitar. There is no limit to it.
If i were to compare myself before I took the classes and now, i think I am like 300% better now.
The lesson materials that Vishaal provides may seem easy at the first glance, until you do it. It really brushes your skills up. You just need to do it!
I have learnt so much from Vishaal about music theories and guitar techniques. I know what's a minor and a major, what's a barre chord, power chords, arpeggios and etc. All these I have never knew before i started.
If you feel that you are not progressing, stuck on creativity, a beginners, or intermediate, there's always a room for growth. And I strongly recommend Vishaal to be your mentor. He is an insane guitarist, and he is a great teacher. It's not easy to find a great musician being able to teach in an effective way. He will be able to help you progress, regardless of your level.
I never skip any of his classes, because it so damn fun!
Before, I could never get the beats and rhythm on the songs that I want to play. Today, I can count the beats and play the rhythm and I can get creative with it using different ways of playing, such as power chords, barre chords, baseline, etc, and lastly… being able to Jam!
Vishaal is a great mentor to me. However, do not waste the effort of a great mentor thinking that by attending class will make you automatically good.
You need to put in the effort to practice what you have learnt. No one becomes a pro overnight, it takes preseverence and descipline and a great mentor.
I always think that learning guitar is not an easy job, especially people who have short fingers like me. 🙂 but after I started taking my guitar lessons from Vishaal , well nothing is impossible. 
I love rock and oldies songs. I never thought that I could to play my favorite songs until I started my lessons with Vishaal.
I have learned 3x more since I started the lessons with Vishaal. The more I practice the more I feel good.
As long as you are interested with learning guitar, just go ahead & get the trial lesson! You will never regret and you will love it even more.
I always enjoy my lessons with Vishaal.  Vishaal is such a patient and cool teacher.
Besides learning chord, strumming etc. I think I improved my hearing skill pretty much which I was pretty bad before I started my lesson with Vishaal.
Even though I never learned my guitar lessons from other places. But I really enjoy and like the way that Vishaal teaches. Vishaal will always make sure you understand your lesson before the new lesson started.
Since I started guitar lessons with Vishaal, my guitar playing skills have improved by leaps and bounds. Under Vishaal, my learning was accelerated because he showed a real interest in ensuring I improved as a guitar player.
Before taking lessons with Vishaal, my other guitar lessons were boring, unimaginative and most of all I felt the instructor was there at the school just to make a fast buck. With Vishaal, I get a sense that it is important to him that my playing really gets better, sooner rather than later. I've also learnt to appreciate music a whole lot more.
Since I started, I have improved by 200% compared to before. I would recommend anyone from any age group to take guitar lessons from Vishaal because he is passionate about seeing you achieve your dream of playing guitar like a pro!
I ENJOY MY LESSON WITH VISHAAL A LOT!
Now, I can count music, play arpeggios and chords, play some blues and rock songs. Taking guitar lessons with Vishaal has been the best thing for me!

When I walked into my first lesson with Vishaal I knew nothing about how to play the guitar. After my first lesson I had the tools to start learning my favourite songs, it was awesome. Since starting with Vishaal I have improved at a fast rate and am extremely happy with my progress.

My music life before starting lessons with Vishaal was basically listening to my favourite songs thinking how cool it would be to be able to play them. Now I am listening to those songs and figuring out how to play them on my guitar thanks to Vishaal's awesome teaching methods.

Well I was a complete beginner when I started so absolutely 100% better. Vishaal's teaching style is really fun and easy to work with.
After starting lessons with Vishaal I became a lot more pro-active about playing the guitar. Vishaal made learning fun which made practicing fun. With Vishaal I feel my learning speed has at least tripled.
I would recommend these guitar lessons to anybody and everybody. Vishaal tailored the lessons to encompass everybody. We all felt very engaged.
I Loved all the lessons, I wish Vishaal was teaching here in New Zealand!
Now I can play a number of my favourite songs in full and I can hear different techniques in songs when I hear other people playing them.
I highly recommend anybody who is thinking about lessons to get in touch with Vishaal, you won't regret it. Vishaal has helped me start on this journey with a great foundation and I am so happy that he was my first guitar teacher! 
I have been struggling for a long time with motivation and just basic music knowledge. I like teaching myself most things; but since I started taking lessons from Vishaal, I realized what I have been struggling to do for years I could achieve in just a few intensive classes.
My musical life is much more colorful now. I have more confidence in what I can do, and I am excited to play instruments everyday (not so much before)
I am 100% better since taking lessons from Vishaal. Over a period of 2 weeks I feel like I have achieved a level I never thought possible in such a time frame!
I've learned 10x more about guitar playing than I'd ever have on my own (or with any other teacher, to be honest. I know because I tried)
I would recommend these guitar lessons to anyone who basically wishes to play guitar or is already playing! Vishaal fits the lessons to your level and needs– helping you achieve your own personal guitar goals!
I absolutely loved having lessons with Vishaal, to the point where it became the highlight of my day (and no my life outside that isn't that boring). Vishaal is a really cool teacher, who cares about what you want musically, and his lessons are fun!
Now, ever since lessons with Vishaal, I understand theory (and some cool guitar tricks) much better than before, I am also more motivated to write my own material.
Vishaal is great at almost anything related to guitar. I was personally very interested in music theory, because I want to learn other instruments too. Vishaal laid it out for me in a way I could understand and saved me so much time (rather than going through a bunch of books and online videos). This was important to me, that he tailored the lessons to my needs. It is hard to find that with any other teacher out there. So, yes! Vishaal is pretty awesome.
Prior to taking lessons from Vishaal, I tried learning the guitar from my brother. C major was the first chord that he taught, but no matter how hard I tried, I just couldn't grasp it. He blamed my fingernail and after they were neatly clipped, he concluded that my fingers are too short and that they just won't stretch. Already I regard guitar as a highly complicated musical instrument with the different strings and frets, now my fingers won't co-operate. And ever since, I was very certain that guitar is not for me. But the love for the sound of guitar never ceased and I continued to watch Taylor Swift strums the guitar in awe.
Which is why I find it amazing that I could play most of the chords just after taking two lessons with Vishaal. My fingers, as it turned out, are perfectly fine. Vishaal has the knack of simplifying complicated theories and situations, which is what made learning guitar with him enjoyable.
Now six months down the road, with all the theories and skills that I've learnt thus far, I had shockingly written my own song.
I learnt the organ when I was 8, stopped at the age of 17. Maybe I was too young to appreciate music, but it could also be the teaching methodology. You attend class, go home and practice the same repertoire until your dad asked you to stop because he has had enough of hearing 'My Bonnie Lies over the Ocean' on repeat. And then you go back to class, attempt to play the same piece in perfection, which if successful, you get to learn another new song, and if not, it's another week of 'My Bonnie Lies over the Ocean' on repeat. I wasn't taught skills, I wasn't taught the many different ways that I could adopt to play the same song, I wasn't taught to experiment and be creative. In my 9 years of learning the organ, never once had I played or created something beyond the manuscript, because I don't know how to.
Learning guitar with Vishaal allows me to be creative and makes me understand how exactly a harmonious composition is created. Not to play a song by tab, but be able to create the song in your own way, to improvise. I think that's the biggest enjoyment I've achieved with Vishaal, the freedom of creating your own music as opposed to memorising and then regurgitating without ever being able to fully understand why.
From not being able to play the guitar, I could now actually play songs so I would say it's definitely a 100% improvement.
I would recommend to my friends who want to learn the guitar. In fact, I did. Many of them currently rely on YouTube tutorials, but again, that's teaching you how to play, and you may not understand why it's being played in that certain way, basically, it's spoon-feeding. You want to be free of that actually.
For an example, my brother played something that's really awesome and when I asked him, why this way, why not that way and he replied, "I don't know. Just follow-lah." 

The lessons are Very enjoyable. Some of my answers above actually covered this. Also, beyond skills and experience, most importantly Vishaal is very patient and is articulate in his explanation, which makes for a very good teacher. 

I can now Play a song without having to refer to YouTube tutorial, play barre chords, create my own music.
Based on my conversation with my friends and my lessons with Vishaal, I would like to say that learning from YouTube tutorial and learning from an excellent guitar teacher, like Vishaal, are two very different thing. One is limiting, the latter offers you opportunity to develop to your fullest capacity. Teachers are the cornerstone to your leaning, so be sure to find a good one, otherwise you will dread going to classes and miss out on what you could have achieved.
I have improved as a guitar player since I started taking lessons from Vishaal by learning how to play the chords on the guitar. And by that learning how to play my favourite songs.
I have learned 10x more about guitar playing since I started lessons with Vishaal.
I would recommend anyone interested to play the guitar from Vishaal as he motivates his learners to become better guitar players. Also with practice and his patience, I learnt all the chords in a short time.
I enjoyed lessons with Vishaal as he is a fun and motivating teacher in class. He shows different techniques to play and learn the guitar.
I can play my favorite songs, learnt barre chords and others now.
Take lessons from him! : )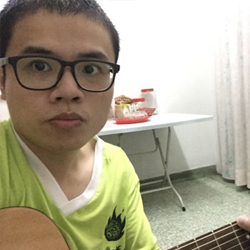 I have learned and improved a lot as a guitar player, indeed. This is really a big leap for a person with no music background before, like me. I could never imagine i can play guitar like this before.
I had no music background before, and i feel really thankful for starting guitar lessons with Vishaal at the first place.  He really showed me what and how much i can do with my guitar, and now i can't believe that i manage to learn a song within 5 minutes!!!
I am for sure 100% better than the old-me, with no music background and never thought himself would be able to play guitar !!! i am glad that i managed to get a good teacher for my guitar coaching.
Ya, please come and i am sure you will be able to pick up the guitar levels in fast pace. Vishaal will specifically look into the problems we are facing and recommended us solutions individually.
His lessons are really enjoyable, as at the end of the class you won't believe that time flies that fast! You will be able to play songs that you want to play before!
I totally could not play guitar before and now, i am able to play any songs i like, within a short while of learning!
Besides offering guidance and advice during lessons, Vishaal is also a good mentor who will design cool stuffs like jam night and master program for us to really brush up our guitar skills. So, join us and rock!
Before i took lesson with Vishaal, I have no idea of how to improve my guitar playing skills.
Also, before I start learning from Vishaal, my skill couldn't improved much with the knowledge i learnt from the Rocksmith video game.
According to a fellow student of Vishaal:
"As a guitar player, laying a foundation of basic skills will ultimately save you a lot of time and heartache."
From Vishaal's lessons I've learnt the most fundamental skills to build a solid foundation in guitar playing and improved a lot in terms of knowing how to play guitar.
From Vishaal's lessons I've learnt building on the techniques that make me a good guitar player, and the ones which allow me to play the music I want to play.
Vishaal not only taught me the techniques and skills I need to play the guitar, but taught me to enjoy playing and learning.
Vishaal taught me so many things that I need to know about the playing guitar and without him I wouldn't be half the guitar player I am now!
As a guitar player I'm 300% better now, compared to before lessons with Vishaal and I learnt 3x more about guitar playing and music since I started lessons with Vishaal.
Also, after taking lesson with Vishaal, I'm able to play the Rocksmith video game a whole lot better than before.
Furthermore, lessons with Vishaal is very enjoyable.
Vishaal is an excellent teacher and highly recommended to all.
At the end I would like to thank Vishaal for all that he has helped me to become a better guitar player.
My guitar playing improved a lot since taking lessons from Vishaal. I was able to take guitar playing questions to him at the beginning of each class and he would be able to explain and show me how it was played and the steps need to play those songs.
My musical life has improved, I am able to organize my own practice sessions and things to work on to be a better guitar player.
The quality of lessons and material is very good. Vishaal is able to understand each student's needs and abilities, and organize teaching content based on that. Very intelligent way of crafting lessons yet being creative at the same time.  Very rare!

I would recommend Vishaal's lessons to anyone interesting in learning to play the guitar, at any level.  He first understands your goals and musical level, then charts the lessons accordingly.  Great!
I enjoyed Vishaal's lessons very much.  I didn't miss a single lesson, except for 1 which I was out of the country.
Now, I could apply some techniques, hear my mistakes and keep practicing to improve it.  Great!
Great teacher and always willing to help and clarify.  Rare!
My understanding of music has improved by a mile. I use to get puzzled watching some of my favourite performers perform. Now I have the knowledge of what they're doing musically. The best part is all this improvement came with just about ONE month of lessons with Vishaal!!
I've always been crazy about music and taking lessons with Vishaal made the idea of becoming a musician so much more attainable. I like how Vishaal always uses himself as an example when it comes to times when I am struggling. Vishaal reassures me that the skills he has now are trained and not born with, which makes reaching your musical goals feel realistic and much more achievable.
I would definitely say I am 3 times better than before I took lessons. Listening to music is one thing. Creating it is another. I'm no longer fearful when it comes to creating. Vishaal kicked away a bad habit of mine which is perfectionism. He always say "even just by you trying, you can get it" This makes me ignore that little voice in my mind who always have to get things right.
I would recommend these lessons to beginners who are struggling with music and playing their guitar.
I thoroughly enjoy the guitar lessons. It's fun and Vishaal carter to your wants and needs which I think all helpers (doctors, teachers, counselors) should do.
Now I can FINALLY sing on key! And I can now understand how somebody with a baritone voice like Michael Buble and somebody with a high soprano voice like Mariah Carey can do a duet!
I like how Vishaal is more than a guitar teacher. Vishaal feels like a friend to me. This way we can progress faster. Oh and one last thing – when he said there are no obligations after the free trial lesson, he really means it!
Ever since I have taken electric guitar lessons from Vishaal, I have improved as guitar player and my appreciation for the instrument.  I've had over 10 years of experience in acoustic guitars but was unable to transition the knowledge to play the electric guitar effectively until Vishaal gave me practical step by step guidance on developing these new skills.  I am now able to play accompaniments to almost any song in any key with the music that is in my head and this is only after approximately 5 months of lessons.  While Vishaal is an excellent coach for new students, he is also an equally adept teacher for intermediate students looking to develop new skills, improve existing ones, and get to the next level if they have hit a plateau.  What I've enjoyed most about my lessons is that it allows for myself to learn from other musicians and learn how to play as a team.  I've also enjoyed the pace in which the lessons are taught as it is tailored to my abilities to learn with adequate time for practice.
"I join Vishaal ard Aug 2014 with only knowing some simple chords but don't know how the chords applied. Now I could play the songs that I like with the skill I learn from Vishaal. 
Before I start learning from Vishaal, my skill couldn't improved much and the knowledge i learn from YouTube are not inconsistent that make me confuse sometimes. But, now i could play around with many songs and inviting my friends to do a cover of a song with me. 
I am 100% better and know at least 3x more about guitar playing and music than I did before taking lessons with Vishaal.
I will recommend Vishaal to my friend who interested to learn guitar. It is because of his way of teaching is so creative and Vishaal is able to help me to overcome a lot of problem in the process of learning. 
I enjoy the lessons 100%, not just because of the skill, but also the right attitude that Vishaal share with me is so helpful to help me to achieve my guitarist goal.  I could really feel Vishaal's passion to the guitar. 
Now I can play the songs that i like in my own way with all the skill that I learn from Vishaal. "
I have more fun in my life with the guitar. Vishaal is helping me to achieve that faster. Thanks, Vishaal." 
"I have been playing guitar for about ten years. After the first couple of years where the focus was on technique and learning the favourite tunes, progress was non existent. Moreover, though I managed to learn a few popular tunes, I would not know what scales the solos were played over, or what key the song was in.
The latter was most frustrating. I was prepared to put in the hours to improve technique, but the lack of knowledge affected me the most. When I first talked to Vishaal, this is precisely what I wanted to change about my playing- I wanted to know what I played, and then work on that knowledge to get better with my technique.
A lot changed from the very first hour I spent with him taking lessons. Within just a few hours, he succeeded in making me understand the basic scale theory, the chords hidden within individual scale notes, various strategies one could use to build his/her own lick vocabulary and exercises to improve technique at the same time.
I can now visualise the scale patterns, shapes, build my own chord progression and churn out a few rudimentary licks that could save my life should I be asked to play guitar on a day out with friends or family. More importantly, I am not solely at the mercy of the solos and riffs made famous by other guitar players, if I must play in front of people.
The fact that the lessons are so well structured is what I find most impressive and beneficial. By the end of the day I've taken the lesson, I would have a summary of our lesson sent by email, along with assignments/exercises to work upon, to buid on the day's lesson. This I believe is one of the many USPs of Vishaal's approach to teaching.
Though I find it hard to put a number on such things, I would say I have improved at least 2x from the day before I took my first lesson. What needs to be mentioned is I could only meet him for four weeks due to the peculiar nature of my work. Anyone with more than a passing interest in playing guitar should consider taking lessons from Vishaal, there is absolutely no room for failure for those who sign up and stay true to the cause. I highly recommend aspiring guitarists, and also the ones who have already been playing guitar for a while, and want to improve to consider learning from Vishaal, there is a lot to be learnt and a lot of fun to be had playing the wonderful instrument that the guitar is. "
"I started this journey with Vishaal about 6 months ago. I never looked back and have no regrets. I have improved so much both technical and practical aspect of guitar playing that I really cannot put a number to the improvements that I have developed. Let's just say from my 15 years of playing guitar, I have learnt and improve a lot more in this 6 months then I did in 15 years.
I have always loved music and how I could express myself through the guitar. All these while I have been self-taught, I didn't know the technicality behind guitar playing. I know how to hold the different chords but I never actually understood what makes a chord a chord, or what notes am I actually holding to form the chord. Now I do, everything seems to make a lot more sense and as cliché as this may sound, I wished that I started lessons with Vishaal 15 years ago.
For those who are more analytical in nature, let me try to put a number on how much exactly have I improved. This is from my 15 years of playing vs 6 months of guided coaching from Vishaal, I reckon about 500% better as unreal as it may sound, bottom line is that I improved a lot! 
Because I have always been self-taught, a lot of things did not make sense and with nobody to guide me I ended up memorizing stuff which I did not know how to apply them. With a coach like Vishaal, things are broken into smaller fragments which are easy to understand and more importantly the ability to apply of these things once I've learnt it. 
I would recommend Vishaal, to anyone who is serious about their guitar playing. Taking this step to work with a proper coach is not a normal thing for us Malaysians to do, after all there is youtube where everything can be found and its free right? I have had my fair share of looking for free stuff on the internet, well, all I can truly say is (again) these 6 months has been my most fruitful time spent on my guitar vs the past 15 years.
Time seems to have just flown by, every week we look forward to our class with Vishaal and it has become the highlight of our week. I say 'we' because I share the class with another buddy of mine and we constantly push each other to be better week in week out.
What I can do now is to be able to understand (not memorise) the technical part of guitar playing. I did not understand the fret board and now I do (still lots to learn though) and when to apply certain techniques and applying them correctly.
Music is a form of expression, there is no right or wrong. You don't need exams and books and a set of stringent syllabus to follow in order to graduate into a guitar player. All you need is your heart, your guitar and a good coach that understands you. Mastering the guitar will take a lot of time and a lot of effort. Enjoy this journey, don't rush it and with Vishaal, your time will be well invested."
"I'm a newbie in a guitar's world. Before this, I don't even know how to hold the guitar correctly, not even strumming. I don't know guitar has how many strings, and I don't know what the difference between a guitar and a ukulele is. After taking lessons with Vishaal, I feel like I'm entering a new world. It is amazing that every picking and strumming could produce a new melody. I can even produce my own song by repeating some chords!
I don't know anything about guitar before I started the lessons, not at all. I've learned a lot of guitar keywords since I started to learn guitar such as frets, chords, strumming, arpeggio etc. I found it interesting to learn guitar with Vishaal because he is really patient and observant. He will notice and adjust your finger style or if you've pressed on a wrong string. For now, I'm able to play some simple songs by looking at the guitar tabs and chords. Also, I can tune the guitar by myself (and before this I don't even know that a guitar needs tuning too).
I'm totally new in a guitar's world, so basically I started the claases from 0% knowledge. After couple of classes, I think I'm now 30% better than the old times after two months of leaning. I'm glad that I did improved a lot after taking lessons with Vishaal.
I've learned 2x about guitar playing since I first started my lessons. I can differentiate between strumming and finger picking, and I did learn some musical knowledge from Vishaal. It means that I don't only learn guitar practically but theoretically, too.
I would really recommend these guitar lessons to everybody, no matter men or women, boys or girls, young or old. This is because learning guitar really isn't as hard as I thought before taking lessons with Vishaal. Just that it needs a lot of practice and you might need to spare some time every day or every week to sharpen your skills.
Yes definitely I enjoy the lessons with Vishaal as I mentioned before, he is really patient, cheerful and knowledgeable. It takes time for me to remember the keywords in guitar such as chords and tabs etc. He reminded me in every lesson so that I can remember them clearly. I would recommend Vishaal to you if you're interested to learn guitar from A to Z.
For now, I can do picking, strumming, arpeggio, guitar tuning and simple song composing. All these things are the things that I couldn't imagine before I take the lessons with Vishaal. Before this I thought that these can be really hard and sounds very professional. However, I found that they can be done by every people (even a not-so-clever-people like me) after I tried them one by one. You would never know your potential without trying something new.
I just want to say that taking lessons with Vishaal is really fun and enjoyable. If you're still struggling or hesitating, I would tell you, there's nothing difficult once you start to try. So, just go for it! "
"Working with Vishaal has been like a dream come true. The time I spent with Vishaal has been so productive and effective in so many ways as Vishaal helped me realized my true potential. Before taking these classes I did not even knew the basics of guitar playing and now after some months my friends are amazed of how good i can play after such small time period.
Since starting classes from Vishaal music has become a major part of my life.and I believe I have improved by 100% and can know 10x more about guitar playing since then. I would recommend all young aspiring and beginner guitarists to Vishaal specifically because of the way he teaches. At the same time Vishaal keeps the environment friendly and does not put pressure on any student regarding their progress.
I have learned so many techniques and playing styles since joining these and I can only imagine how much more I will learn from Vishaal in the coming future. At the end I would like to thank Vishaal for all that he has helped me achieved in this short time and am looking forward to learn more from him."
Tim – Brisbane, Australia
"Guitar lessons with Vishaal significantly developed my knowledge of musical theory and my guitar-playing competency. Not only did Vishaal enable me to play my favourite songs, the lessons also inspired me to further my guitar ambitions on my own.
Prior to starting lessons with Vishaal, the only musical teaching I had experienced was learning the violin until I was thirteen years of age. My guitar experience consisted only of attempting to play a few popular songs every other day of the year. I would rely on 'youtube' videos and other media as sources for my musical knowledge, which was limited at best. However after starting my lessons with Vishaal, I found that I could learn more in one lesson than the many days I spent surfing youtube.
Vishaal infinitely expanded my comprehension of musical theory, allowing me to truly understand what music I was playing and the way in which that music is formed. Vishaal also helped me gain confidence in my physical abilities such as strumming, finger control and utilizing the entire fret board. I can honestly and sincerely say that the lessons I undertook more than doubled my musical ability with respect to the guitar.
I would personally recommend Vishaal to anyone who is interested in expanding their knowledge of guitar, whether it be at a basic beginner level or higher levelsabove. Though I was only a beginner myself, I can safely say from the discussions I had during lessons that Vishaal would be extremely competent in teaching far more in depth musical content to a higher level player.
Ultimately, the best thing about learning guitar with Vishaal is the all rounded, holistic and personalized approach to teaching that you will experience. The lessons don't follow the general script by teaching you a song or two; Vishaal ensures that you learn what you want and what you need by customizing the lesson plans to suit your ambition. Personally for me, Vishaal gave me a crash course on understanding theory and applying that knowledge to guitar playing, while I was holidaying in KL. In just four lessons I learnt everything from scales, chord progressions, improvisation and strumming techniques. 
What I find most satisfying about these lessons is that they don't just end when the hour is up. Vishaal ensures you have materials and exercises on the go through email communication. As a student you are never left wanting, which is the most important thing in my mind.
If you want an extremely sound and comprehensive guitar learning experience, Vishaal is the most adept teacher I know capable of giving that experience to you. Plus, Vishaal is generally just a cool guy so there is really no place you can go wrong."
"Before I met Vishaal, I always thought musical talent is something that you are born with, and that most of the time I got a bit frustrated with myself for being too slow to pick up certain skills. Then Vishaal taught me the basics of playing guitars, which when being put together helped a lot.
I used to always stick to what im comfortable with which was only playing rhythm,and avoided solos as much as i could. Nowadays i find it a challenge to find the tabs on my own..slowly building up my hearing and soloing skills.
Im about 30% better after 4 months of lessons with Vishaal. I am still perfecting the basics..once im comfortable with them i think everything else will make a lot more sense and finally i could express myself thru musics
Vishaal structured his teachings in a very organised and simple way compared from anyone would.
I would recommend these guitar lessons to beginners and to those that are stuck at a certain level and beginning to think that music is complicated(like i did).
I enjoyed my classes with Vishaal a lot. He treated me with respect; never once laughed at my naivity on certain aspects and whenever he felt that I did something out of norm he would tell me nicely that there are a few ways of doing it but he personally prefers it this way or most people do it that way."
"Before starting off my lessons with Vishaal, I was struggling a lot on my strumming and chords as I was learning by myself from YouTube and online materials.
This is my first instrument that I know therefore, I did not know if what I was playing was right or wrong. My chords sounded very ugly and my strumming was very bad as well. I almost got demotivated until I decided to take lessons from Vishaal.
Vishaal taught me the techniques and tips that I could not get anywhere else and also motivated me. Vishaal taught me that making mistakes is fine, and on how to learn and improve from it. Now I am much more better and I have learn't a lot in these few months.
I can now create different strumming patters, change chords, play power chords, write songs and many more. I can say that I have improved about 60% from what I was before and that too in just a couple of months, truly an amazing experience learning from Vishaal. I would really recommend new guitar learners to take guitar lessons from Vishaal."
"Before, I never played the guitar well. Yes, I tried learning a few times from my brother but it didn't work out well for me. After having lessons with Vishaal, I know that I improved a lot. I can say this because in just two months I can already play my favorite songs and I know most of the common chords used. Further more, I learned a lot on strumming skills. It has helped me a lot.
I can proudly say that now, I know how to play the guitar. I'm not really good at it but I know how to play few of my favourite songs. Before this, I wished that I can play the guitar and sing along with it but now, I can. My musical life is still a work in progress :))
I would recommend these guitar lessons to all my friends because Vishaal works well with people. He understands and knows which level you're at and works with you from there. I am very sure that my friends will enjoy his lessons.
I REALLY ENJOYED my lessons with Vishaal.
I say kudos to Vishaal for the lessons that he taught me. It really helped me since day 1 til now. He has his own way of teaching which is great. He is not the typical guitar coach in which only teaches you. His skills are tiptop. No doubt bout that."
"Vishaal has helped me build up basics which are the foundation to systematic learning. I certainly learned the things which i cannot find over the internet and learned tips that will go a long way.
I have been playing for well over 3 years without making significant improvement beyond the basic chords. Every session with Vishaal is a new learning.
I learned the basics which i grabbed some couple of years ago. So I have better understanding of guitar and music as whole than before. I learned about 2x compared to what i already knew.
I recommend anyone who has been trying to improve the guitar skills but hasn't been able to, primarily because of not knowing what to do next. Also its a good place for beginners, a place where you can learn properly.
The sessions with Vishaal are rocking. I always looked forward to the session. I can improvise and can differentiate between the dos and don'ts. I am able to build upon the basics which will help me play better.
I thank Vishaal for making the sessions interactive, which helped me learn the theory without making the guitar learning mundane." 
"I have been playing guitar on and off for a few years; but being self taught, I had a lot of bad habits and there was a lot I was doing wrong. When I moved from the UK to Malaysia, I looked at taking lessons and I was lucky to find Vishaal.
Since I have been taking lessons with Vishaal, my guitar skills have increased five fold. Before I had lessons, I struggled to remember the name of chords, scales etc and it took me hours or even days to learn simple songs.
After 12 lessons with Vishaal, I am now completely comfortable playing any chord, creating rhythm's, improvising and much more. I can learn a lot of rock songs within minutes, which was my main goal when I came to see Vishaal.
The main benefit of having lessons with Vishaal is that it is made easy to remember using simple techniques. Vishaal goes into music theory, but makes it simple to understand and easy to remember.
Vishaal has been very accommodating to me as I have a changing work schedule which makes it difficult to practice and to turn up on a regular basis. If I could have more lessons I would, I look forward to every lesson as it is always fun and there is always something new to learn."
"When I started as a student with Vishaal, I had zero knowledge about  playing a guitar. However , guitar lessons with Vishaal actually educated me on the most basic knowledge of playing the guitar, various technics that can be used to play the guitar and also how to have fun and be creative in playing guitar. After a year taking lessons with Vishaal, I have improved 100% as a guitar player as the learning continues.
I enjoy my lessons with Vishaal as he gives me confidence that I can be a good guitar player and he always motivates me that makes me feel good and continue to practice and achieve my goals in guitar playing. By taking lessons with Vishaal ,  I can actually play the various chords, practice my favourite songs and also know there are various technics in playing the guitar and different methods and skills are used to create a certain tune or music. Vishaal makes guitar playing enjoyable and fun but always stresses practice is important.
I would recommend beginners to take lessons with Vishaal as he is patient, motivating and encouraging all the time which will make us gain confidence when we play the guitar. For more advanced players, taking lessons with Vishaal will be interesting as from my point of view he is talented, creative and continuously exploring thus there is always new things to learn from Vishaal about guitar playing."
"I joined in the class since May 2014, it's always a good experience and more music knowledge "input" to me. I never thought that rhythm / strumming pattern can be form in so many way; so as chord progression/ song writing; lead guitar solo improvise etc. and the most important to me is the ear training.
After start the lesson with Vishaal I got more idea to make a simple song more interesting with electric guitar. It help me so much as I need to study a lot of songs in 2-3 days which I'm a "part time" musician in my Church with no proper music knowledge. For now I can say that I have at least 30% – 50% better guitar player / musician before.
I have learned about 3x about guitar playing since the lessons started, all arpeggios / major minor scales etc which has been improve as those are the knowledge and skills that I need. I would recommend to anyone that has passion in learning guitar, anyone that have dream in music, I'm sure Vishaal will has the way to guide students into the proper way in learning guitar and music.
I appreciate and enjoy much in the lessons, I can ask any questions related to music not only guitar, a lot of surprises that I had in the lessons as a lot of way to make a song interesting even with 1 acoustic guitar. I still thinking that lead guitar is a very challenging instrument especially in improvising, now I can improvise with the whole fret board.
I think Vishaal is truly a music lover with passion and a good teacher with patience, seriously I think I'm a slow learner but still I improve allots and thanks for encourage me especially when I'm not sure I play well, and I hope someday, Vishaal and I can jamming together in some music carnival or Concerts?? Haaahhaaa!"
"Previously before I start my class with Vishaal I really suck with guitar, but after i took class for him i really learnt a lot. Whole new things for me which I never knew about guitar. I've Improved a lot for his class even with sucky technique.
My musical life before I start this class was like from nobody to somebody, the reason I said that because my school sometimes have this kinda event where they need a guitarist to perform for school. I was not good at first but when I start my class with Vishaal I started to become better then last time.
Lets just say that before i was like 20% good but now with vishaal class I'm 75% batter then last time. I've learnt 3x more about guitar now, not only that I've learnt something new about keyboard as well.I would recommend these guitar lessons to all the beginners who wanted to learn guitar because all of Vishaal class or lesson are just easy to interpret and stored it into the brain. What I want to say is his will explain it to you till you understand.
I enjoyed his lessons so much till I don't even realise that my time is up."
Deveness – Kota Damansara
"Throughout my life I always wanted to attend guitar classes. Circumstances were such I couldn't be where I wanted to be. Just like the saying "THERE IS A LIGHT AT THE END OF THE TUNNEL", I guess I finally found my "LIGHT" for all troubles that I was facing to be a guitarist. VISHAAL'S GUITAR LESSONS is the LIGHT that I meant.
For a guy who is practically 0 by end of the 1st month taking guitar lessons from Vishaal, I have learned 3x more about guitar playing. Just within  3 months i became 30% much better than where I was at the very start. I have improved so much since then, now i can make my own strumming patterns, experiment with different chord progressions and even come up with my own rhythms and tunes.
For people starting from scratch just like me this is called "PROGRESS" my friends. All the credit goes to Vishaal due to his guidance, flexibility in teaching, patience and most of all its fun learning with Vishaal. Personally, Vishaal's guitar lessons is something that I look forward for every week and that's how deeply it has improved my playing skills. I recommend Vishaal's Guitar Lessons for Everybody out there who wants to make their "DREAM TO BECOME A REALITY" cause VISHAAL JUST DOES THAT.."
"Being a guitarist was something I always wanted to achieve. But without effort I may not achieve it. When I started taking guitar lessons with Vishaal I can feel my talent started to polish. Before taking this lesson, I'm just an ordinary teen who just love to listen to music but know nothing about it. I got zero experience about guitar.
But after taking a few months lesson with Vishaal, my guitar skills increased by 30% and I managed to play quite some of my favourite songs. No matter what's your age, with determination Vishaal will sure be able to guide you.
Furthermore, lessons with Vishaal is very enjoyable and he tends to make jokes while still able to spot your mistake and correct it."
"I can gladly say that my guitar playing skills has improved tremendously and am improving at a rapid pace now after having a solid foundation, with Vishaal's guidance.
I took up guitar lessons from the music school in my hometown. I was very frustrated as I did not see much improvement even after attending classes for 2 years. The method taught by the previous instructor was on a song to song basis. i.e. "for this song we learn this chords and this style of strumming." I had to be good at that song/chords before we proceeded to the next song. It became very monotonous and boring. I was not even guided on the various aspects of strumming and fretting on my guitar.
I was about to give up playing guitar when I came across Vishaal's website. With the close guidance accorded by Vishaal, till to date, I am 100% better. 100% better as I personally can see the improvement. Also, my 3 daughters aged 26, 24 and 17 and wife now complement me on my playing. Previously, they tend to shut the door whenever I play the guitar.
Not only that, Vishaal has also guided me on vocal chord training and updated me on the music industry as a whole. The few months I have been with Vishaal, my guitar playing and music skills has improved three folds (3x). I now actually enjoy picking up the guitar and strumming it!

I am 57 years old now and I consider myself a slow learner. I do not have any musical instrument or vocal training before this. With Vishaal's guidance, patience (LOTS OF IT), positive affirmation, creativity and practise sessions, I now enjoy playing guitar and music at the next level.

Believe it or not, I confidently sang on a number of occasions to a large crowd with positive feedback. I strongly recommend these guitar lessons to anyone interested, especially, beginners like me, seasoned guitar players and students. Vishaal has the ability and skill to teach students at all levels. 
Vishaal has the guitar skills, is able to explain in detail on other aspects of music, patience, maturity level and ability to guide learners in the right direction.
Vishaal also keeps himself updated on guitar skills so that students are able to derive maximum benefit. 
I look forward to our weekly lessons with Vishaal, knowing that I will be learning something new or improving on the previous lessons. With Vishaal's guidance I am able to strum the guitar with various styles smoothly, able to fret much much better without muting the other strings, improved tremendously on Ear Training, know more about music as a whole and be creative on the guitar. As a whole, I am a better guitar player and singer now.

Anyone out there who is interested in taking up or improving their guitar skills, I wholehearthly recommend Vishaal. Vishaal is passionate about music and passes it on to his students. Vishaal has always been there to answer my concerns on music as a whole.
Vishaal has taught me to appreciate music at the next level and I now pay more attention to details which I ignored earlier. Vishaal's teaching methods are very systematic and make makes full use of modern technology for easier understanding.
In short, Vishaal is passionate about his music and without doubt I have benefitted from it. Thank You Vishaal, for making fulfilled one of my dream of being a better guitar player in twilight years." 
"Ever since I started taking guitar lessons from Vishaal, I have learned a lot about guitar, especially in finger styles techniques. My skills improved tremendously and now I am able to play songs without referring to the tabs anymore.
(My musical life before lessons with Vishaal) was terrible, there was once my neighbor knocked my door and ask me to stop playing guitar because it was sound awful. Surprisingly now that same neighbor asking me to teach his son how to play guitar. Other than that, I compose few songs and it was a satisfaction to me.
Probably my skills improved about 30% within short two months. Such improvement motivates me a lot to be better guitar player and hopefully in future I would love to taking lessons from Vishaal again (I had to stop because of my work situation).
(I feel my knowledge and playing ability have improved) about 3x since starting lessons with Vishaal.
I would recommend this lessons to anyone who like to improve their skills, because the lessons was not only about how to be able to play your favorite songs or memorizing chords but also to understand everything about playing guitar from basic. If students able understand this the rest will comes naturally.
Vishaal is a professional guitar player and been doing it for years, clearly he is knows what he doing. So if you need professional guidance, Vishaal is the one…not to mention the fees is very affordable."
"I quit guitar classes in a several places 3-4 times (throughout my life), until I saw Vishaal website which is https://www.guitarkl.com. I have talked to him and I feel like I wanna try it again. Then I decided to have class with him. Since the first class the techniques that he taught about changing the chords it was working for me, that other guitar teachers never tell me about this technique before. I can change the chords more smoother and simultaneously than before in just only one week. I can tell that the way Vishaal teaches me, it's not just can play a particular song, but also can apply the knowledge that he taught in any songs that you like. If I face any problem, he will immediately know what is my problem was and show me the techniques to solve that problem. Any doubt during my practice at home I can ask him via a chat and he will reply immediately don't need to keep that doubt until the next class. So it can help me to go on my practice. Now I can say that my guitar skills is improving. I feel like I have a good opportunity to have a guitar class with Vishaal. I have chosen the right teacher that teaches me the way that never seen before when I was learning guitar in other places. If anyone asks me where should I learn guitar. I will definitely recommend Vishaal."
"I had not a single clue about guitars before I started taking guitar lessons from Vishaal and within a few months, under Vishaal's guidance, I was able to do things I never thought I could do. I would definitely recommend anyone who wants to progress as a guitarist to sign up for lessons with Vishaal since his method of teaching isn't only very effective but is also fun at the same time. I enjoyed every single lesson I've had with Vishaal since the very first lesson and looking forward to have more lessons with Vishaal and progress even further in the future. Lastly, I would say stumbling upon Vishaal's website was one of the best thing that happened to me. Thank you Vishaal!"
Steven Grob – The Netherlands
"Taking guitar lessons from Vishaal has been the best teaching experience I've had in my life. This does not constrict to only music lessons but also includes the teaching experiences I've gone through at the international school I attended in Singapore, the university I'm attending now in Europe and more!
The structure of my classes were a little less ordinary than the usual because I live in The Netherlands. However, during my two month visit to KL visiting my parents, my mother arranged lessons with Vishaal for me.
During one conversation over the phone we discussed the material I wanted to learn and what were reasonable objectives to achieve. And Vishaal taught me exactly what I wanted to learn. I've been playing guitar for almost 5 years and Vishaal helped me with things I have been struggling with for years, answered questions other teachers (and even google..) didn't know the answer to and taught me more in two months than I learnt in the past year. Plus one of my favourite features, after every lesson I was sent a digital document with notes on what we had covered in the last lesson specifically, allowing me to recap and use it as a guide that I can look through once in a while.
I am beyond satisfied and grateful to Vishaal for the past months and would recommend his incredible service to anyone, especially to those who are passionate about music and who want to improve significantly in a shorter period of time. He was very motivating, patient and especially genuine when teaching, which to me are essential characteristics to a phenomenal teacher."
"Since I started taking guitar lessons with Vishaal, I have improved greatly through my playing in such that I can play songs smoothly and I have new techniques which I found hard to master by watching tutorials on youtube. Before I started lessons with Vishaal, I went to guitar classes and took grades but I was not happy because I was not making any progress in what I intended to learn. After taking lessons with Vishaal I was indeed very happy because Vishaal gave me lessons materials that were catered to my learning goal as a fingerstyle player. Besides that, by taking lessons with Vishaal I have learned 5x better about finger style guitar and music since I started taking lessons with Vishaal. Vishaal explained in explicit details on how to improve my playing. During my lessons with Vishaal I have built self confidence. Vishaal is genuinely concerned about how I am progressing throughout the lessons. Vishaal made me realise that I can achieve what I want by instilling confidence (in me). I can tell it with no doubt that I completely enjoyed my lessons with Vishaal and I have done the right choice by enrolling in his class the moment I started my lessons. Thank you!"
"I was fortunate and blessed to have chanced upon Vishaal's excellently written guitarkl.com website six months ago. I expressed my interest in taking up guitar classes. Vishaal returned my call as promised in quick time, asked about my interest and inclination towards the kind of music I was interested in picking up on the guitar. I signed up immediately, and now will not hesitate to recommend anyone interested in learning the guitar to try Vishaal out. What I find appealing is his personalised lessons, accommodating songs that I long wanted to play on the guitar. It makes you want to rush home to practice, and look forward to next lesson. I've improved tremendously on my guitar skills under his tutelage and am now able to play my favourite songs. Each lesson with Vishaal is an enjoyable experience. His warmth, patience, understanding and ability to inspire you makes him an excellent guide, friend and teacher. His unconventional approach to bringing out the best in you has made every one hour session with him motivating one. Thanks Vishaal!"
"I had no idea on how I can make use of learning this instrument called guitar. But after meeting with Vishaal coincidentally on his web and started taking lessons from Vishaal, it solved my quiz. Basically I realized the beauty of guitar and accumulated tonnes of knowledge to apply them into whatever you wish to play and from fundamental to intermediate level I could bring up. Of course, my musical life was totally blank before taking lessons from Vishaal. Because I wasn't very determined of picking up. But until now Vishaal advised me on being determined and remembering my goal, for not giving up, besides teaching me how to play guitar. I have learned 3x about guitar playing since started lessons with Vishaal. Vishaal is a good instructor and advisor if you are planning to take guitar lessons. Therefore, I do recommend about his guitar school to my friends who are interested in since the day I started taking lessons from Vishaal. Because, I am impressed with Vishaal's skills and satisfied with his ability to teach musical instrument and definitely I enjoyed pretty much with Vishaal's lessons."
"Vishaal's guitar lessons incorporates a "tailor-made" method to suit your skills, style, and your musical influences. That is amazing! Within a short few months, I can already jam with him to any full song I want..and the thrill of jamming is out of this world!"
"I always wanted to play the guitar but I found it a hard instrument to learn until I started taking guitar lessons from Vish. In the begining it was tough but through various techniques and easy explanations Vish made guitar playing look easy and enjoyable. His lessons and materials given are very useful. His patience and teaching techniques makes the student learn faster. I always thought an instrument is easier to learn when a person is young but he proved that wrong – I started playing 6 months ago and I can't imagine the progress I have made. My friends and peers get surprised when I tell them I have been learning for only 6 mths. Thanks Vish!"
"I was a self-learning guitar player since 2008 and started to touch on electric guitar in 2012, there are a lot of things to learn and there are too many information which are not categorized over the internet. So I was always missing out a lot of important information along my path. After a long time I realized that I need to have someone to give comments in order to move on on the skills, I found guitar lessons from Vishaal through the internet. He taught me from beginning and tried to search out what I am missing right in the lesson after my self-learning years. Although I have only attended 3 months classes, all those knowledges Vishaal taught me, is making me improve every time when I am practicing myself. Although as for now, I only feeling that my skill is only improved about 30%, but I believe that, once I get all those stuff fully understood, I will be way better than what I am now. Learning from Vishaal is very cool because he knows a lot of different style of musicians, which he will always introduces artists that match your tastes to you. He is patient and will not skip any single part for a student even though some of the parts are tiny. I would recommend my friends and family if any of them wants to learn guitar, it is better to find a instructor instead of self-learn for a beginner."
"Learning Guitar from Vishaal is a refreshingly different experience from the usual concept of 'taking a class' … It is a relaxed and fun experience and yet you get to take a deep plunge into the wonderful world of guitar learning, each time. There is so much to making music, and I strongly feel if the foundation is well understood you can create beautiful stuff yourself. Vishaal's guitar lessons does exactly that…
He teaches the core concepts in depth and aims at making each an independent musician. I like the freedom of creativity that he allows, and the non-judgmental approach makes it easier and takes the pressure off. With him as a coach you can truly improvise.
The coolest part is despite all the liberty provided he is never too far to hold your hand and take you through it when required. He is a great teacher. This is a world worth exploring!"
"I am already a guitar player before joining Vishaal. Taking lessons with Vishaal helped me to improve my basic understanding about what guitar is all about and what I already know previously but in a real musical and guitar language. I have improved about 30% more from before although it is only a month lesson. For those who love a customized and leisure lesson, aided with easy-to-understand lesson materials, Vishaal is the suitable person you are looking for. I enjoyed my time learning guitar with Vishaal as nothing fixed being taught instead Vishaal deliver something in concept and idea, so it let the students to apply and practise according to their level."
"Well, I did learn a lot under Vishaal's guidance. He's a good teacher because he could really relate to the problems that I faced as a beginner and helped me overcome them. I really found the guitar classes cool because it was pretty chilled out and he taught me different techniques and how to apply them which was really useful as it helped me learn much quicker and more efficiently. I definitely learned a lot about music and the production of music as well, which made me more keen on the subject. He gave me a lot of useful lesson material which was interesting for me andmade it more fun for me to do. The experience of learning from Vishaal really helped me progress in my musical knowledge and gave me a good foundation."
"My aim is to create music as a food for my soul… In order to achieve my Goal, I found Vishaal to be a more suitable teacher… His training methods are customized according to the goals we want to achieve… And I am getting trained to achieve my musical goals. The direction is set according to my long and short-term goals… I am sure with any other teacher I won't have this. Some people feel, that sense of music is an inherited talent, I am not sure if I have any (natural talent)… When I started, I didn't really know  how to play anything… And today I see myself able to do many things. I recommend anyone to take guitar lessons with Vishaal, whether you know or don't know what you want to achieve on the guitar. Vishaal will help you to determine what your REAL musical goals are and how to reach them!"
"Since I started taking guitar lessons from Vishaal, I think that I have improved a great amount in not just my skills in terms of the electric guitar, but also theoretically. I have learned many different skills and techniques which I can apply when improvising. Before I started lessons with Vishaal, I had already been learning the piano and the acoustic guitar which was a major advantage for me when learning the electric guitar. Now, I feel like I am more capable to feel free to improvise when it comes to the electric guitar. I think that now, compared to before I started lessons with Vishaal, I am around 40-50% of a better guitar player. I think that I have learned 5x more about guitar playing, music and also about the guitar in general since I started lessons with Vishaal. I would recommend guitar lessons with Vishaal to anyone as he can teach a variety of skills and techniques that can be applied to any type/genre of music."
Norman – Bdr Sri Damansara
"Since I started taking guitar lessons with Vishaal, I have the opportunity to learn the proper theory and technique behind music, which I never fully understood before. Now everything makes a lot more sense and I am able to apply that knowledge in a practical way to improve my guitar playing. Before I started guitar lessons with Vishaal, I used to play casually with friends and we would just play music for fun. Now I can play a wider variety of songs and I take music more seriously as I want to become a better player. I have learned 4x about guitar playing and music since I started lessons with Vishaal. I would recommend these guitar lessons to anyone who loves music and wants to improve their playing, because Vishaal is able to provide lessons that are tailored to your individual needs and abilities."